It's all about the accessories!
Well, I'm back  and this time I'm talking accessories. There are some fabulous ones out there on the market with a lot of options for a stylish young scooter lover to choose from. However taste is an individual choice, and we wouldn't like to prescribe it to any young fashionista. So we're going to focus on some nifty accessories we've seen to keep your child & scooter safe, and your home even safer.
Keeping your head
Now, here at Scoot Lock HQ, we're big fans of safety. After all, we love our kids, so why wouldn't we want to protect them? That's why we suggest that your child wears a helmet, whether scooting or cycling. And we're not alone, The Royal Society for the Prevention of Accidents  also endorse the use of helmets. On cycling they suggest that helmets are a "sensible way of protecting the head, especially with loss of control accidents.". However, they make a great point in that helmets should ideally be bought new, so no rooting around on eBay for that perfect one, even if it is your child's favourite colour! They say that "we don't advise getting a second hand one, unless you are certain it is undamaged. Even the minor cracks that come from dropping helmets can affect their integral strength."
We'd also add for you not to forget to look for the CE mark on any helmet you buy, and why not invite your child to pick out their own? After all, if your child chooses one for themselves, they are more likely to pick one they like and therefore wear it more often. Finally, we know they are an expense (albeit a worthwhile one!) but never be tempted to get helmet a size bigger in the hope they will grow into it, and keep an eye out for them growing out of their current helmet, as a badly fitting helmet will offer far less protection than a well fitting one….
Light at the end of the tunnel
The nights are already drawing in, with only a precious daylight hour or two of scooting time left once we leave the school gates. So if your child is going to be scooting when light is at a minimum, such as early morning or dusk, then you might want to consider investing in some lights or reflectives. All Scoot Locks come with a reflective front badge included in every purchase, helping your child to be seen in the dark, but if you're concerned there are plenty of reflective vests and lights on the market for you to choose from, available in all sizes. We recommend you take a look at Halfords as a great starting place, or even John Lewis. Personally I'm loving their natty School Safety Waistcoat in pink, if only they made it in my size!
Hang it up!
Now, as much as we love a scooter here at Scoot Lock HQ, we have to admit, they can be somewhat cumbersome. The amount of times Finn has come home from school, flinging his bag one way and his scooter entirely another, leaving naught but a hazardous mess at the bottom of the stairs? Well, I can't tell you, but needless to say it has caused an uproar or two. Though recently this has all come to an end thanks to a very cool device…. The Scooter Peg.
It's a nifty little peg designed to keep scooter clutter out of the way. You simply screw it in in a convenient place, and then hang up your scooter. It's as simple as that, with the added bonus that the scooter deck can become a handy little shelf for all your scooter accessories. It comes in one of four bright colours, so can be matched to your décor, and they've even thought of a discreet wall guard to ensure your freshly painted walls don't get covered in mud and general scooting mess.
And you, you lucky Scoot Lock fans, can get 10% off the frankly brilliant Scooter Pegs in the run up to Christmas. Simply use code Xmas2016  scooterpeg.co.uk  checkout & don't say we don't do anything for you.
Lock it, leave it, retrieve it
Well, look no further! We of course entirely recommend a lock for your scooter (or indeed trike or bike), after all, no one wants their scooter stolen or misplaced as happened to Finn, which of course put me on course for my Scoot Lock adventure!  And even though I do say it myself, our Scoot Lock is just fantastic. It clamps to the scooter stem, so you never have to worry about bringing it out with you again – it's stays right where you need it! It is long-lasting and durable, and can even be moved to a bigger scooter as your child grows. The combination lock can be set to a combination that your child can remember and the numbers are large enough for little uns to read them properly. Hailed by Mummy Blogger Mad Mum of 7 as "blindingly simple but genius", the Scoot Lock is so easy to use that both parents AND children can get to grips with it with little fuss.
Well, those are our thoughts on scooter accessories, all perfect for the young scooter lover in your life and great ideas for Christmas! Now, get shopping folks, and happy scooting to you all.
Merry Christmas!
Love from Cheryl and Finn
xx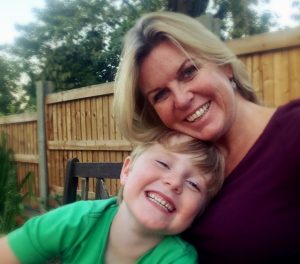 PS: Don't forget, you can get 10% off all Scoot Locks throughout December using code 'FESTIVE' at the checkout. So, what are you waiting for? Get shopping!